Enjoy the beautiful surroundings of Castlecomer Discovery Park while at the same time learning a little bit about our natural world, more specifically BUGS! Our trained guide will have you looking under rocks and leaves to find our invertebrate world!  This is an activity that the whole family can enjoy!
Dates: 5th & 19th May 2018 Time: 11.00 12.00 1.00 2.00
Price €5 per Child €2.50 per adult (45 minutes approximately)
Suitable for 4+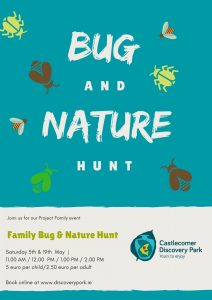 Look what you can do here!