Planning a hen or stag in Kilkenny Guest Blog Castlecomer Discovery Park
Planning a hen or stag in Kilkenny and not sure where to stay or what to do? This blog will detail the best spots to stay and the activities to get involved during your trip to Kilkenny.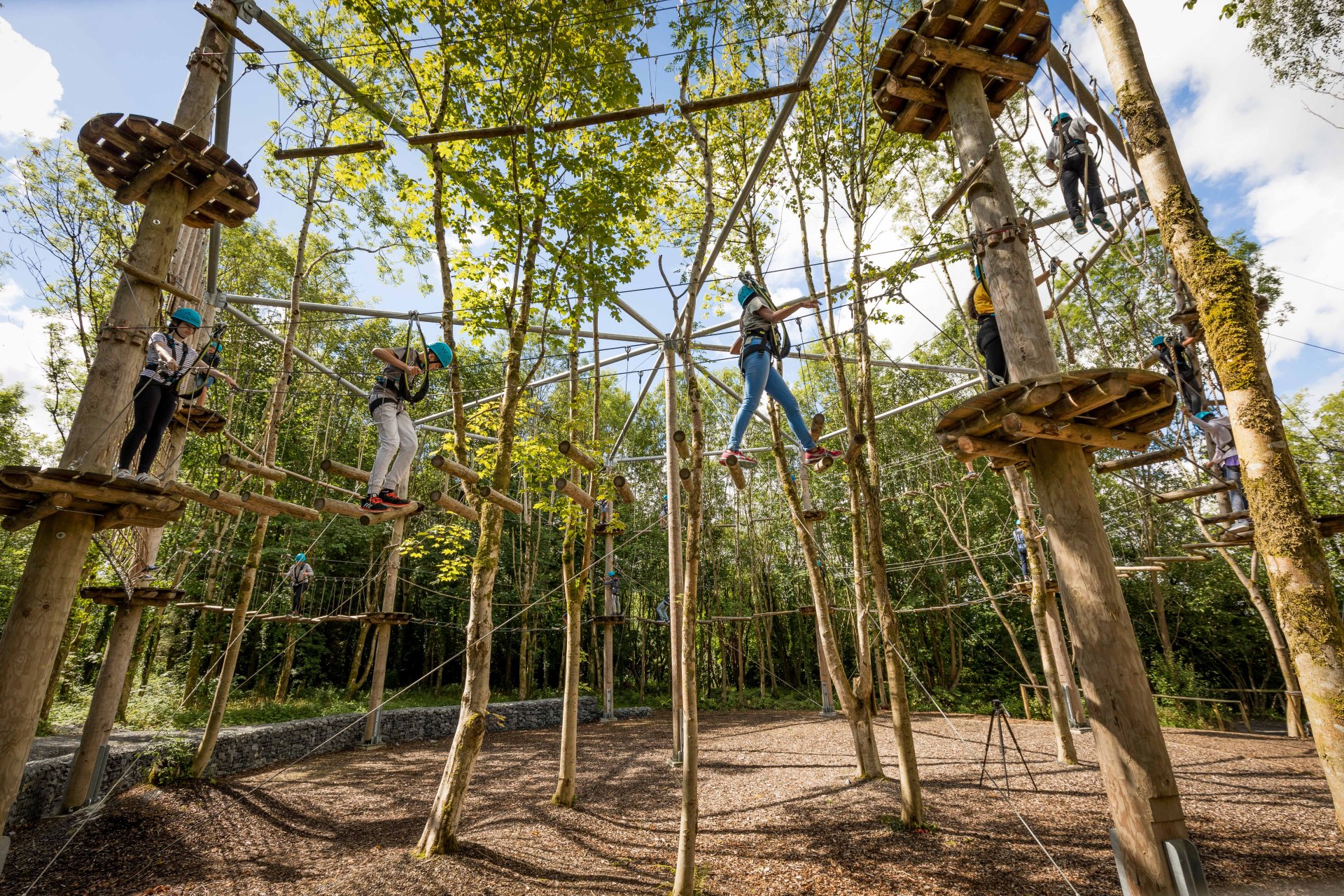 Castlecomer Discovery Park
Castlecomer Discovery Park is a social community enterprise located in Castlecomer, Co. Kilkenny. The gorgeous park is set in the former grounds of Wandesforde Estate which is filled with over 80 acres of natural woodland and lakes. Castlecomer Discovery park has a wide range of outdoor activities, nature trails, museums, café's, and playgrounds on site. The park was opened in 2007 to launch the Coal Mining Exhibition, Visitor Centre, and Design Craft studios.
Hens and Stags at Castlecomer Discovery Park
Castlecomer Discovery Park cater to both hen and stag groups. They offer a vast range of activities to suit both groups. All activities guarantee the best craic and an unforgettable experience. Jump out of your comfort zone with the ziplines activity or take a leap of faith with the high rope's activity. If you are looking for a meal, that can also be provided by their delicious Jarrow Restaurant.
See below a list of all the activities they offer to both hen and stag groups.
Zipline & Octagon High Ropes
Tree Top Walk Adventure
Climbing
Archery
Canadian Canoes
Orienteering time challenge, 3 trails – short, medium, long.
Team Challenge
Catapult Building
 Adventure at Castlecomer Discovery Park
The activities which are offered in Castlecomer Discovery Park include the following.
Tree Top Walk & Climbing Wall
Zipline & Octagon
Canoeing
Archery
Axe Throwing
Orienteering & Walking Trails
Coal Mining Museum
Catapult Museum
Team Challenges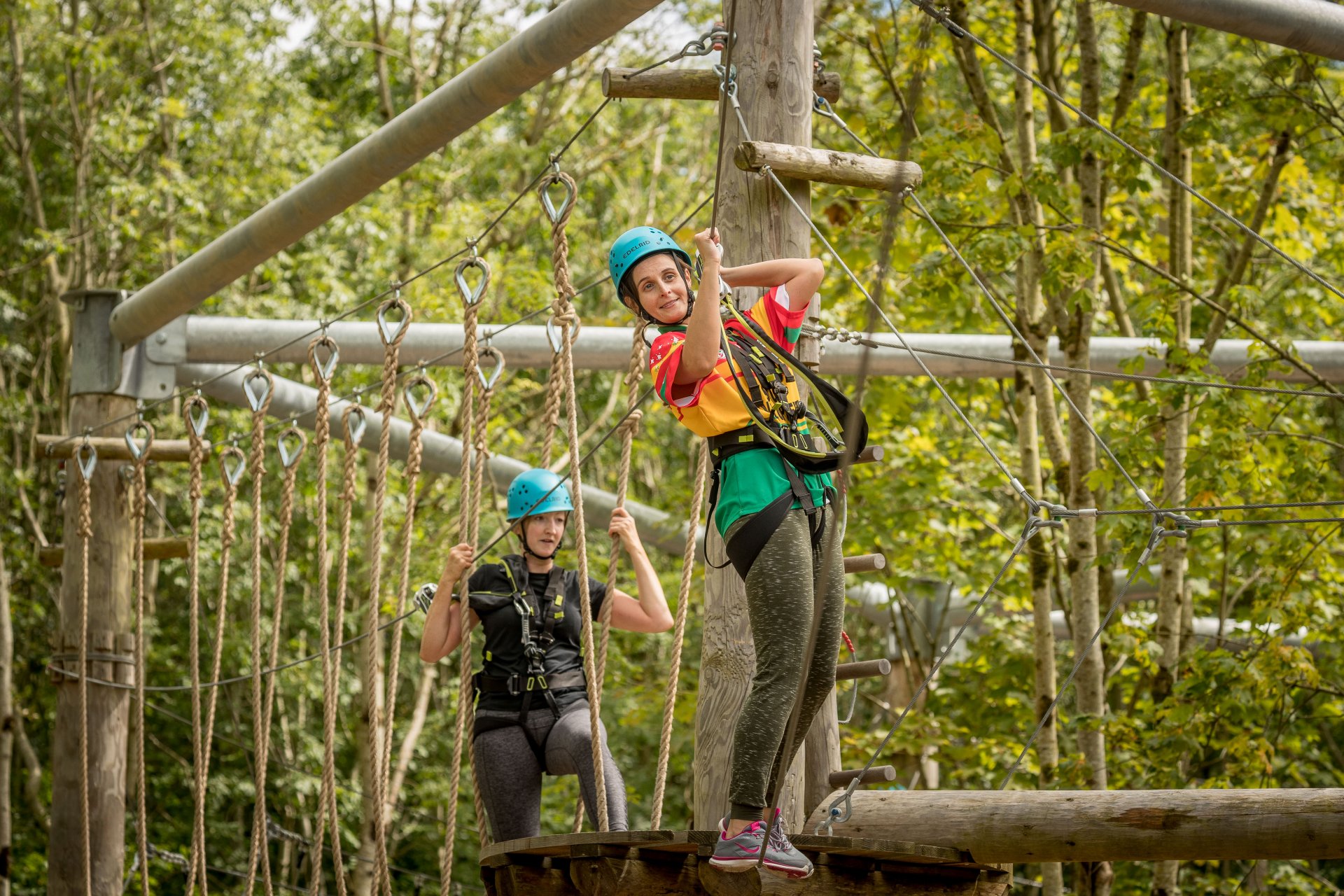 Discover & Play
Discover and Play is perfect for the kids! See below the activities.
Timber Tumbles Playground
Junior Woodland Adventure Course
The Bouncing Net
Elf & Fairy Village
 Accommodation in Kilkenny
Kilkenny has plenty of accommodation options to choose from especially for hen and stag groups. Choose from four-star hotels to self-catering to dorm accommodation. For hen and stag groups, especially during Covid-19, we would really recommend staying in self-catering however availability may vary due to this option being extremely popular. Self-catering allows you plan the weekend in a safe environment. You also have the option to dine in the accommodation and have a few drinks at the property due to restrictions being in place in bars and restaurants. Hotels are also a good option for hen and stag groups in recent times as most hotels are only allowing residents use their leisure centre's and spa's. Staying in a hotel may be more relaxing as you could dine in the hotel and have a few drinks there before returning to the hotel room.
Who are we?
Kilkenny Concierge are an events agency based in Kilkenny city. We provide bespoke packages to hen groups, stag groups, corporate, sports teams and youth clubs across Kilkenny. We offer excellent unforgettable group getaways with our expertise knowledge and contacts in Kilkenny. We function to provide quality accommodation, activities, food and transport to groups coming to Kilkenny for a getaway.
How to book with us?
Booking with us is simple. All you need to do is fill out our online package builder. Our package builder allows you fill in all the specifics like the date, number of nights, accommodation type, number of people, the activities you would like to do, meals and transport if needed. After doing this, we will create a free quotation for you. It could not be easier. Alternatively, you can contact us via telephone or email to discuss a possible booking.
This blog was written by Kilkenny Concierge in conjunction with Castlecomer Discovery Park. We hope you have gained some insightful information about hen and stag weekends in Kilkenny. If you are looking to plan a weekend in Kilkenny, do not hesitate to contact us or fill out our online package builder.
Caoimhe Morrissey
Marketing Assistant
Kilkenny Concierge