As usual we are open every day during the October Mid Term Break and as usual our team have come up with fun and educational activities for you and your family.  The big news is that we are expanding once more and we are now building a brand new Tree Top High Ropes Course, that means the Tree Top Walk will be closed for mid term …however we are opening up the exciting "Octagon High Ropes" for our 8 + visitors (must be accompanied by an adult…go on you'll enjoy it!)
Please note that there is currently no cafe available in the visitor centre, so bring along a picnic or visit https://www.avalonhousehotel.ie/en/ which is five minutes walk from the park.
Check out some events here…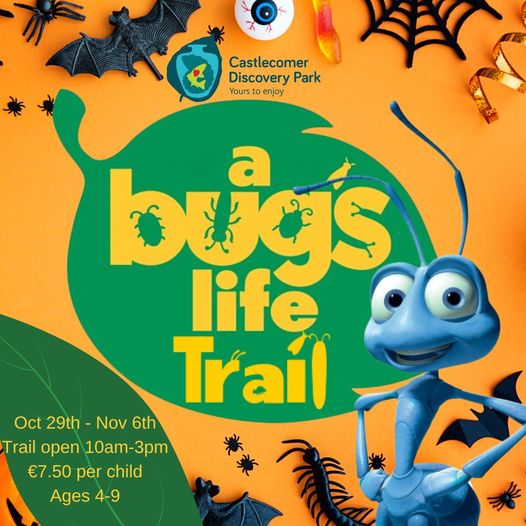 A Bug's Life – Family Friendly Trail
Running from Saturday 29th October to Sunday 6th November, this trail will have your little ones will navigate our 80 acres of woodlands to help Flik defend his ant colony. This family-friendly self-led trail has been specially devised by our Education team to provide opportunities to learn about insect life in the park, our rich biodiversity, as well as having fun making bug crafts and getting exercise.
Running throughout the day from 10.00 am – 3.00 pm, this self-guided trail costs €7.50 per child (adults and under 3's are free) and includes a small prize on completion.
Suitable for children age 4 – 9.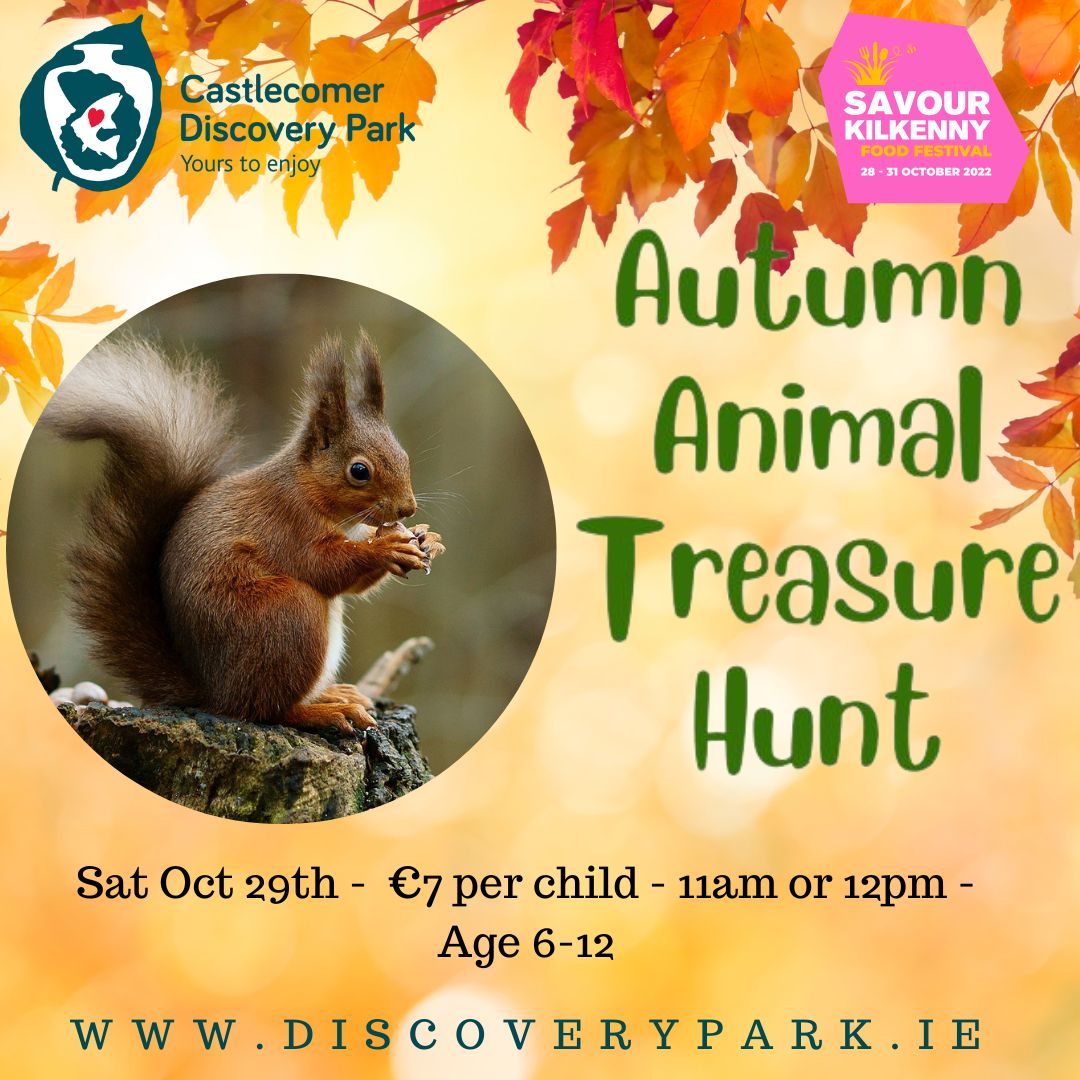 Autumn Animal Foraging Treasure Hunt
As the Autumn sets in, some animals such as squirrels and rooks hide their food in the forest so that they have something to eat later in the winter! At Castlecomer Park during the October bank holiday weekend, we'll be running an animal-themed Treasure Hunt for children aged 6-12. Follow the clues around the park, learn how animals hide their food in winter, and prepare your own 'animal cache' once you find the yummy treasure!
Saturday 29th October
€7 per child, adults free
11.00 – 12.00 & 12.00 to 1.00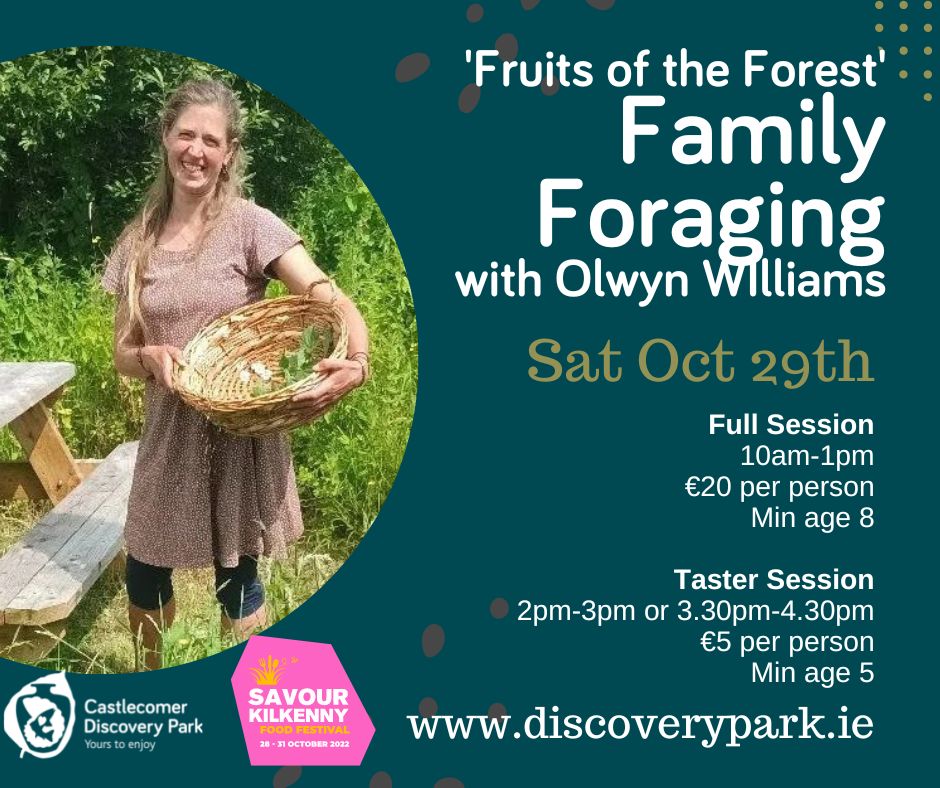 "Fruits of the Forest" A Family Foraging Event
All of us remember picking blackberries along the hedgerows as children, but the forest has so much more to offer and we are inviting you to our forage feast!
As part of Savour Kilkenny we are holding a foraging day.  Spend time exploring the woodlands of Castlecomer Discovery Park, foraging for wild food and learning to identify plants. Search for edible fungi, fruits, nuts, and berries, and try out some foraged food at the end.  Our specialist leader is Olwyn, a forager and yoga teacher based in east Co. Galway. Her work with plants explores the relations between humans and plants and is informed by the need to reclaim food sovereignty, connect with local landscapes, and meet our basic needs in ways beneficial to both people and planet. There will be a longer, very thorough session and two shorter, family-friendly 'taster' sessions so choose what's best for you!
Sat 29th October
'Full' Session (age 8+) 10am-1pm €20 per person
Book the Full Session by clicking here
Shorter Family 'Taster' sessions (age 5+) 2pm-3pm or 3.30pm-4.30pm €5 per person
Book the Taster Session by clicking here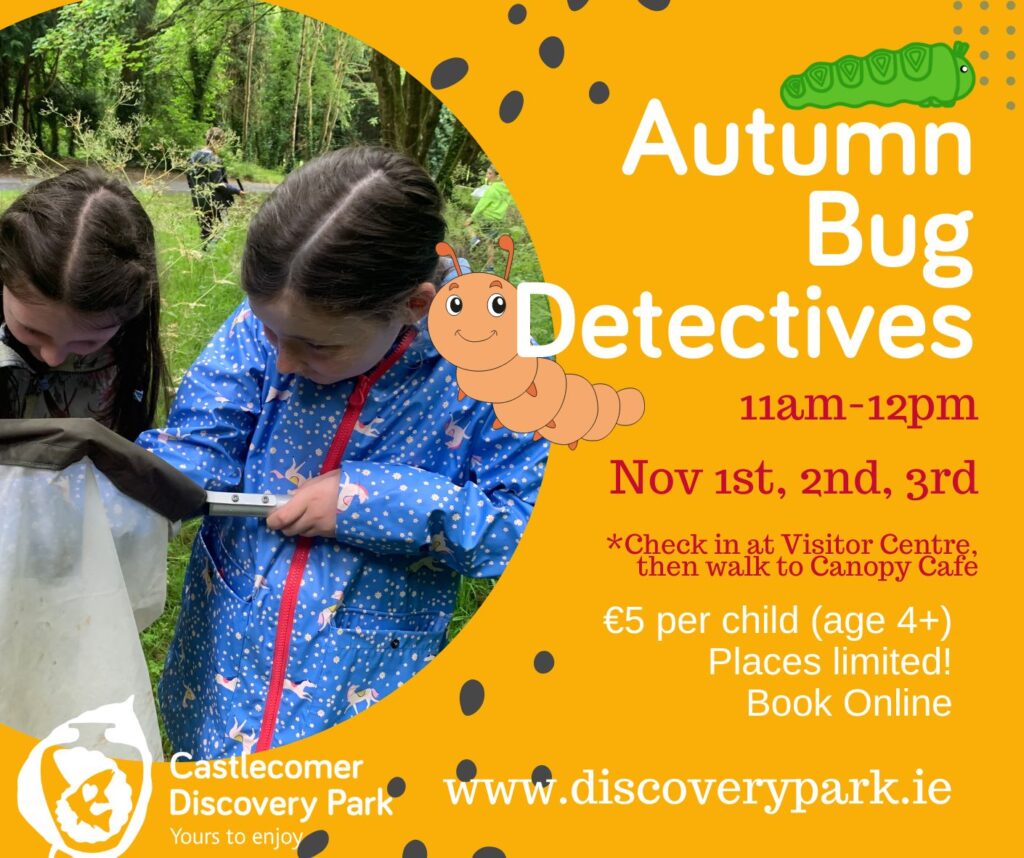 Autumn Bug Detectives
Back by popular demand, we'll be running our fun Bug Detective sessions during the school break! Join our staff for a forest adventure to learn how to catch an identify invertebrates. Suitable for ages 4+, one adult must attend. Check in at the Visitor Centre and allow time for a 10 minute walk to the Canopy Cafe where the sessions takes place.