That's the weekend sorted!
1. Go Screen Free
Many parents are experiencing the scourge of the screen, with our children becoming addicted to digital technology from gaming to You Tube. Spending so much time on line is impacting how our children are developing their social skills and building relationships and bonds. It also has the impact of being harmful to their health as it limits the physical activities they do.
Our team experience first-hand how young people totally forget about screens when they are here in the beautiful natural environment of the park. This is a form of "Green Therapy", which effectively means spending time in the natural world to build physical, emotional, and family fitness.

2. Build Confidence
Adventure therapy is another form of green therapy but uses our activities to promote positive mental, emotional and physical outcomes while having lots of fun.
Some of these include:
Acquiring other positive social skills, like communication and conflict resolution
Improving self-awareness and self-confidence
Increasing resiliency
With Ireland's longest zip wire, climbing wall, high ropes challenges, tree top walk, boating, archery and play areas, there is lots for people to try their hand at adventure therapy.

3. Eat Al Fresco
Let's face it we have had a pretty gruelling winter, now that Spring is showing signs of hanging around, its time to get outdoors and enjoy the beautiful nature that surrounds us.  What better way to enjoy a Saturday or Sunday than relaxing with a beautiful cup of freshly ground coffee.  Bring your own picnic or enjoy a snack from our woodland cafe that has beautifully covered seating areas. Located in the elf village, take in the environment whilst indulging in a little treat for yourself (because you're worth it! 🙂 )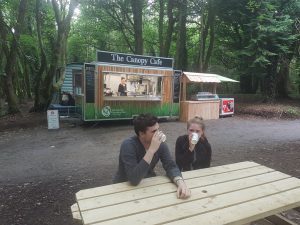 Look what you can do here!