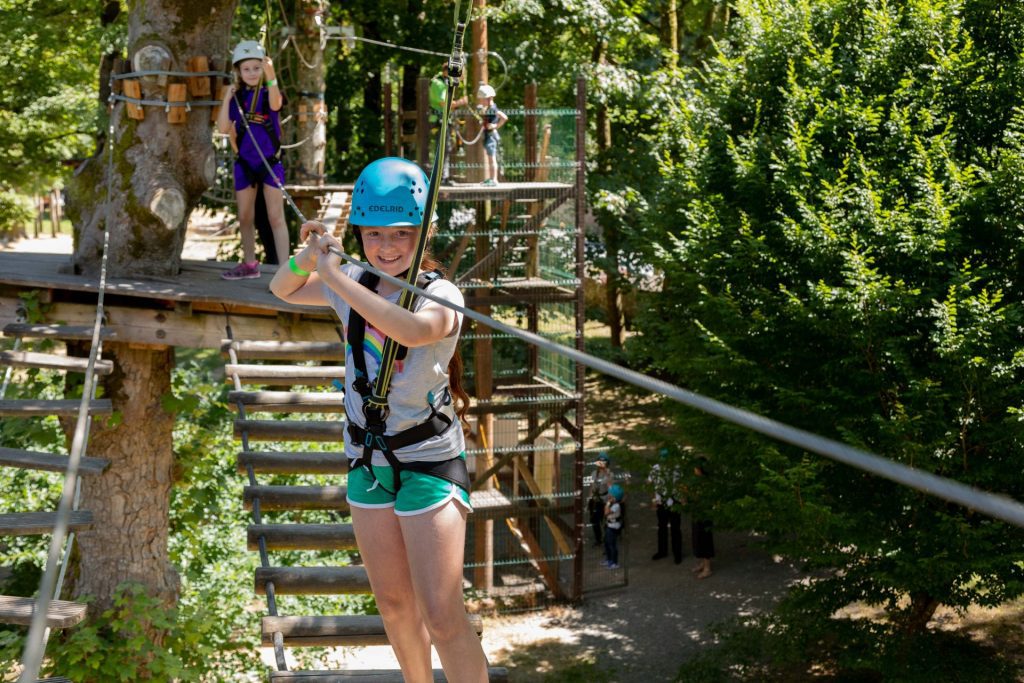 Words can't describe how happy we are to announce we are reopening for our summer season from July 1st 2021.  All our adventure activities will be open and we look forward to welcoming you to our social enterprise for what we guarantee to be the high light of your summer staycation!
You can see all our our activities on line, we suggest that you look at the following areas on the website depending on the ages in your family.
For under 7 year old's have a look HERE
For over 7's and 12's have a look HERE
Please note that Boats are not available to book on line, but are open every day and you can access them when you are here on a first come first serve basis.
A couple of important things to note:
Please arrive EARLY! What makes the Discovery Park so wonderful is that we are located on 80 acres of woodlands and lakes and our activities are dotted around the site.  So if you are going to the zipline – you will need to leave at least 10 minutes to walk there, also allow time for submitting your disclaimers and getting a toilet visit.
Book Online – technically we do take walk up's but due to the outdoor summer we are being encouraged to take, the online bookings fill up very fast and they are priority over walk ups for obvious reasons. Book now on www.discoverypark.ie/booking (we are aware that our booking system is a bit clunky, we are working on it with our developer to improve but one good thing is there is no booking fee!)
Picnics – we encourage you to bring a picnic and enjoy a full day here at the park.  There are loads of gorgeous places to sit and enjoy your breaks. Can we ask that you try to be a picnic hero and bring home your waste. There are some great tips on mywaste.ie under picnics.  We have a recycle bin for bottles / can and coffee cups at the Canopy Cafe and we are also part of the conscious cup campaign so if you bring your keep cup you get 20 cents off your hot drink at the cafe.  We are working hard to reduce our waste – please help us with this.
Dogs – dogs are welcome but always on a lead and only leave paw prints behind
Bikes – unfortunately we don't allow bikes in the park due to the very busy paths and walkers during the summer especially.
Car Parking – we do charge for car parking the highest charge being €5 for the full day.  Please note that we need to charge this to help us with the upkeep of the park all year round.  We are not County Council, OPW or Coillte supported park, we are an independent Community Group that set up this social enterprise to create jobs and help to regenerate the town of Castlecomer.  Our insurance costs are significant as is our maintenance and upkeep, your support through car parking is such a help and as you can appreciate we have 2 busy months and the rest of the year the park remains open as a resource for all.
Eating  – you can eat at the Jarrow Restaurant which is open every day during the summer. This is a completely separate business to us so if you wish to book an event etc please contact them directly https://www.facebook.com/jarrowrestaurant
Our Canopy Cafe is located in the very cute Elf & Fairy Village and is open everyday during the summer. It serves coffee and hot drinks, snacks and ice cream – no hot food.
We really look forward to seeing you, your visit supports up to 60 jobs and rural regeneration.