Summer 2022 at Castlecomer Discovery Park
It's finally here! July 1st and we are open every day for adventure, fun, learning, shopping, eating and most importantly creating happy summer memories.
We are delighted to welcome you to our 80 acres of woodlands and picturesque lakes, located in the historic town of Castlecomer, Co. Kilkenny.  Before we tell you what you can do here, did you know we are a not-for-profit social enterprise? That means everything we make goes back into developing the park, to create jobs, develop rural tourism and helping to regenerate the town of Castlecomer.  Another core element of our ethos is to teach our visitors a little bit about the natural world that surrounds them, and nurture a respect and appreciation for our biodiversity.
What can you do at the park? You can simply come and walk around our 80 acres and four nationally approved walks. Bring a picnic and simply enjoy communing with nature, or spending time with your family.
If you would like to try your hand at some adventure activities, we have loads of them. We were awarded "Best Activity Provider" by the Irish Independent Reader Travel Awards for 2022, that is an award that is voted on by visitors to the park, so you don't have to take our word for it!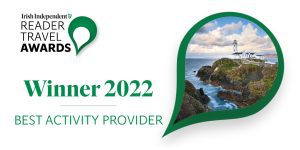 We have two high ropes courses, one is for visitors over 7 and is called the Tree Top Walk, the other is for those over 12 years old (up to 100!) and is called "The Octagon". Both require you to navigate obstacles high in the trees.  You will feel a huge sense of achievement when back on terra firma.
Accompanying the Octagon is Ireland's longest zipwire, 308 meters long over 2 lakes, its pretty fun to whizz over those enjoying a leisurely pedal boat ride below.  This activity is for visitors over 12 and we are strict about that, for your own safety.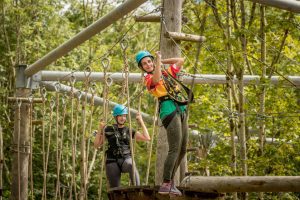 For our younger visitors we have the Junior Adventure Course which was redeveloped this year and is 70% bigger, with loads more obstacles to get around. This is a wonderful healthy activity for our younger (under 8's) visitors as they learn to climb and navigate various elements.  This is packaged with the hugely popular Giant Bouncing Nets, which does exactly what it says on the tin, it's a giant trampoline!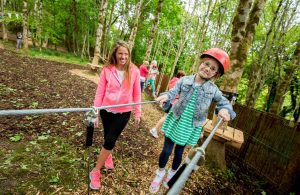 Archery is one of our most popular activities, for our visitors over 7 you can try your hand at being Robin Hood for a little while.
We have bought brand new state of the art pedal boats for the 2022 season, and we are really happy with their performance. They are easy to pedal and enjoy a leisurely half hour on our lake.
New this year is Kayaking on our lower lake; this is one of the nicest places in the whole park. We have open sessions every day of 30-minute slots where you can try out the sport, or we have instructor led sessions that last for two hours in the morning and evenings.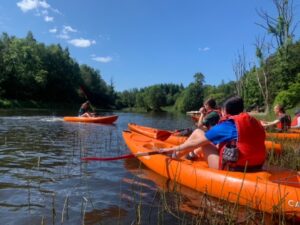 Nestled in the woodlands we have a small coffee shop called "The Canopy Café" it serves delicious coffee which is roasted in Waterford by Coffee House Lane. There is sweet treats and ice cream too.
This year we welcomed a new member of staff to our team, Cian Gill took up the post of Education & Public Engagement Manager. He has been busy coming up with great ideas to keep the little ones happy and learning this summer.
In July and August, we'll be hosting FOSSILS & DINOSAURS sessions for kids age 5-12. Costing €5 per child, sessions run from 11am-12pm.  Sessions are on Wednesdays from July 13th to August 3rd, pick your date which includes a visit to the museum.
Summer Bug Detectives will be running 11am-12pm on July 12th, 19th, 26th, & Aug 2nd. €5 per child and is suitable for kids ages 5-12.
Our Coal Mining Museum is where it all started for us, and it's a great audio-visual experience that takes you through the science behind the coal seam formations to the life of a coal miner.  Great for rainy days or if you are interested in Geology or industrial heritage.
When you visit the park, you are visiting the former stable yards of the Wandesforde Family, but nowadays these have been restored to house craft makers, artists and bespoke retailers.  Check out Rosemarie Durr Pottery, The Snug Room or get some jewellery made for yourself.
At the heart of the Craft yard is The Jarrow Restaurant which is an independently operated business separate from the Discovery Park.
Grab a coffee and head down to the children's playground which is beside our Tree Top Walk.
We can guarantee you will get your step quota up for the day, remember to leave plenty of time between activities to walk to your chosen activity, you are on 80 acres!
Please wear closed toe footwear and bring a rain jacket as we operate in all weathers, builds character 😊
Many people ask us why do we charge for car parking, unfortunately we have to do this as the upkeep of the park is significant. The main cost being insurance which has increased by 150% in the last 2 years. We do not receive any Government subventions or grants for the upkeep of the park, so while it is busy over summer, we have bills all through the year and we hope that you will continue to support us.
Have a great day and if you want to send in any feedback at all, contact us on info@discoverypark.ie
Book all your activities at www.discoverypark.ie/booking