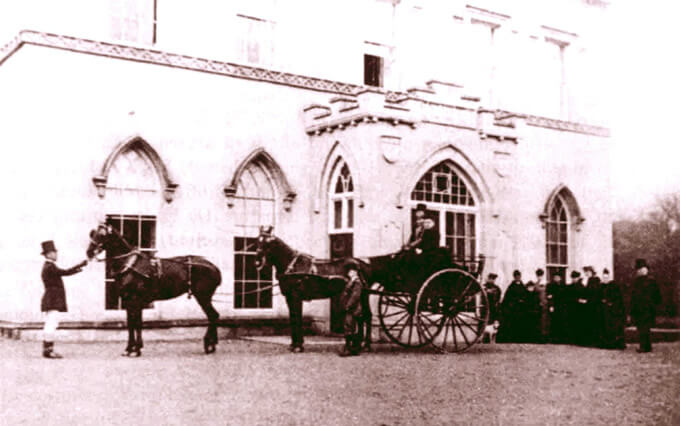 Castlecomer Discovery Park stands on the site of what was once part of the Wandesforde Estate. The Wandesforde family originally came from Kirklington near Richmond in Yorkshire. Christopher Wandesforde came to Ireland in 1636 along with the Earl of Stafford, who was then Lord Deputy of Ireland. He was granted an Estate in Castlecomer along with the titles of Master of the Rolls and Lord Chief Justice and later Lord Deputy after the Earl of Strafford was executed for treason. His son, Christopher was created a baronet and his grandson, also Christopher was named Baron Wandesforde and Viscount Castlecomer by Queen Anne. That title ended with the death of the 5th Viscount Sir John Wandesforde, who was succeeded by his daughter Anne in 1784. Anne Wandesforde married John Butler, heir to the Butlers of Ormonde and became the Countess of Ormonde. Her sons Walter and James became the 18th and 19th Earls of Ormonde while a younger son Charles inherited the Wandesforde estates and took the name Wandesforde.
During the Countess of Ormonde's time on the Estate, the coal mines were mainly run by master miners who leased the land and employed teams of about 50 men to operate them. Her son, Charles Harward Butler-Clarke-Southwell-Wandesforde, took a great interest in the running of the Estate and in the welfare of his tenants and attempted to reduce the role of middlemen by reducing rents and providing assistance. He even helped some of his tenants to emigrate.
CHBCS Wandesforde was succeeded by his daughter Sarah, who married John Prior. She outlived all her children and was succeeded by her grandson Richard Henry who inherited the estates and assumed the Wandesforde name in 1892.
Captain Richard Henry Prior-Wandesforde took personal control of the coal mines and invested his own money in upgrading and modernising the mine workings.